Flatbed Truck rental
Find different sized flatbeds available in the Middle East.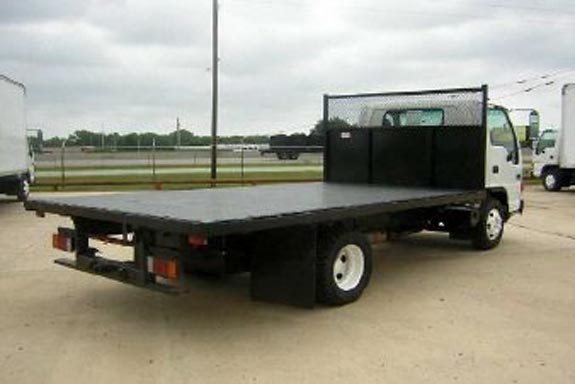 As the name suggests, flatbed trucks have an entirely level and flat bed for carrying cargo. These trucks do not have a roof or sides. They can either be articulated, which means that the flat bed has some joints that allows it to turn more sharply, or they can have a rigid flat bed. These transporting vehicles are the easiest to move loads on, making them popular with many shipping companies in UAE that transport heavy and tough goods. They are ideal for moving heavy loads that are not vulnerable to rain or other weather elements, such as equipment used for construction and other heavy machinery.

Flatbed trailers and trucks can also be used to move loads that have irregular shapes and therefore cannot be carried in cargo trucks with a closed body.
Find a Truck Right Now!
Flatbed rent. Use our instant search to see the available trucks right now.
Check out the Load Board and find the right flatbed for your load.
If you are looking for flatbed trailers and trucks to meet your shipping needs in the Middle East, you can find plenty of ads for vehicles on hire at Load-Me Load Board. Whether you are looking for 13 meter, 12 meter or 13.6 meter flatbed trailers or trucks for the particular cargo you want shipped, Load-Me.com has you covered. Load-Me is a freight exchange board matching loads and trucks and can help you find flatbeds in UAE, Kuwait, Saudi Arabia, Syria, Yemen, Iraq, Bahrain, Jordan, Oman and Qatar. Become a member to find truck owners who can help you ship your load on flatbed trailers between the preferred point of origin and the destination of the cargo. Browse through hundreds of flatbed trailers in UAE and find the cheapest solution for your transporting needs. Connect with the Load-Me member of interest and carry on your communication in real-time and build a partnership.

At Load-Me all ads posted are of high quality and credibility. The portal is the preferred website for logistics providers, freight haulers, freight forwarders and others in the Middle East looking for freight traffic information to offer their vehicles for return freight or find vehicles to transport their cargo.


Search our ads for the perfect truck to suit your needs.
Register on Load-Me.com and begin to browse the hundreds of ads posted for flatbed trailers and trucks.