How Load-Me.com Works
Load-Me.com's Load Board For Transporters Market.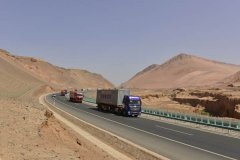 The Load Board is basically an online tool where you can follow available trucks and loads in the entire Middle East's Transport Marketplace. Just like the physical white board many agents have in their offices, it contains places of a certain truck's departure and arrival, available dates for the freight and of course, the vehicle's details, type and cargo hold capacity. And the same applies for the loads present on the board. Cargo owners post exactly what their need for their cargo to reach the intended destination.
Price Comparison is an important feature of the load board. On the transporters market you will always be able to "shop" by price. Since all cargo owners will also post the price they offer for the transport and truckers or shipping companies will post their price offer, you can compare prices and find the best that suits your budget.
www.Load-Me.com is helping truckers to increase their loaded miles and brokers, shippers and manufacturers to ship their freight effectively. By using a smart and unique concept in Middle East we provide all members real-time information about loads and trucks available in the market. If you are a Shipper, Carrier, Freight Broker, Owner Operator, Third-Party Logistics Operator or other freight professional needing to ship or haul freight, our load board can help you big time.
---
Load-Me.com Matching Loads and Trucks across Middle East
---
You can post your cargo or your truck availability and it will become visible in the entire Middle East instantly. You might start getting calls and messages within the minute.
Register now and Make Your Offer Known in the entire Middle East