Jeddah Freight Exchange
Find transport opportunities and shipping companies in Jeddah, Saudi Arabia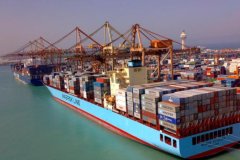 Jeddah, Saudi Arabia is one of the most popular freight locations in the Middle East. Jeddah is a very important freight point in the Middle East transportation industry. If you are needing a freight shipment or loading truck going to or coming from Jeddah, check out our Instant Search to find freight transport opportunities from Jeddah. If you're simply curious to find more information on the freight shipments to and from Jeddah, take advantage of the instant Search function our website offers so you can search the platform and locations.
---
Find shipping companies in Jeddah or find cargo to transport to or from Jeddah in only a few minutes using Instant Search: Get a match right now!
---
Matching loads and trucks in Jeddah is a lot easier now.
At Load-Me.com, we strive and work hard to please all of our current and potential customers. We are proud to offer freight services exclusively to locations in the Middle East. Some of these locations are: UAE, Bahrain, Iraq, Jordan, Kuwait, Oman, Qatar, Saudi Arabia, Syria, and Yemen.

LoadMe caters to shipping companies in Jeddah, independent truck owners, freight agents, and people who need to move their cargo from location to location. If you're a potential customer interested in learning more about our company and what we offer, please don't hesitate to get more information about our Freight Exchange Platform for the Middle East. You can then register for a test account simply to see if our company is fit for the services you're looking for.

Jeddah Islamic Port and the land routes in Jeddah are popular and well-known locations concerning shipment cargo. LoadMe offers a nearly unlimited list of locations throughout most of the Middle East. At LoadMe, we are always happy and eager to answer questions our potential customers may have. Feel free to browse our website so you can search and find exactly what you're looking for. We work hard every day to make sure our clients are happy with our services, and we guarantee you won't be disappointed. Check out the many freight trucks, trailers and lots of shipping companies in Jeddah. And remember, if you have any questions or concerns, give us a call today. We look forward to working with you for all of your cargo shipment needs.
Register right Now and have your offer listed within minutes