Curtain Trailers
Find trailer trucks available in the Middle East,for your cargo.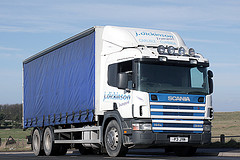 Load-Me enables freight owners and transporters to have instant access to dynamically updated information about available freight, as well as trucks and trailers across the Middle East. One of the types of freights you can find on Load-Me is the curtain sided truck and trailer. A curtain trailer is basically a flatbed truck with an upper structure mounted to the flatbed as a "tarping" system with the sides sliding like the curtains. They are frequently known to haul all kind of products and supplies, that need protection from the sun, dust or rain but do not need temperature control. Curtain side trailers can be used as food trucks as long as they don't need to be refrigerated.

Curtain Trailer Rental. Curtain sided trailers are one of the most frequently requested trucks since are capable to safely carry any kind of load that doesn't require refrigeration. Therefore you can find lots of available curtain trailers for rent on our LoadBoards.


Curtain trailer transportation available
Find curtain side truck in all sizes and for all purposes available for hire in the Middle East. Use our instant search to see if there are available transport options for you right now:
Matching your loads with trucks is a lot easier with Load-Me.com load Board
Load-Me.com Online Transport Marketplace is proud to offer services for shipments and trucks. Here, the process begins when logistics professionals get in contact with one another and can do the freight exchange in real-time. Using the company Load Me, transporters can heavily increases the chances of finding a load for their return trip, making proper and efficient use of the truck in an environmental friendly way. This means no more empty trucks!

At Load Me, our services are directed exclusively to the Middle East Market, making it convenient for many. Some of the countries included are: UAE, Bahrain, Iraq, Jordan, Kuwait, Oman, Qatar, Saudi Arabia, Syria and Yemen. So if you are looking for a versatile vehicle ready to carry your load, search for a curtain trailer, otherwise known as a curtain sided truck, to take your cargo to any of these destinations.

The best part about our services is that we offer shipping companies, independent truck owners, freight agents, and people who need to move their cargo a simple way to go about using and hiring us. Potential customers can search on our site and then create an account and register to list their offer. This is something that allows potential customers to pick and choose what will best suit what they're looking for; the possibilities are nearly endless.

If you're interested in taking advantage of our services, or even if you're simply wanting to explore what we have to offer, you are welcome to register on Load-Me.com. If you have any questions about the kind of services we run, don't hesitate to get a hold of us today to find out more. We are happy to help!