Abu Dhabi Freight Exchange
Find the Right Shipping Company in Abu Dhabi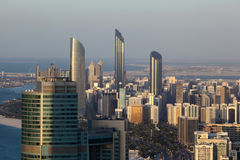 Abu Dhabi is the capital city in the United Arab Emirates and the second most populated city as well. It is home to the government and the President of the UAE so is a very important city in the Middle East and a place loved by many. This busy city isn't just a vibrant cultural place but also a very fast paced business city as well. Lots of commerce is done there and lots of people are often looking for transportation in Abu Dhabi. The cargo is mainly moved from and to Mussafah Industrial Area and comes from the main ports of the capital: Zayed Port and Kalifa Port in KIZAD.
---
Find shipping companies in Abu Dhabi or find cargo to transport to or from Abu Dhabi in only a few minutes using our Instant Search: Get a match right now!
---
Finding loads and trucks in Abu Dhabi is a lot easier now.
You're likely to be a shipping company or even an independent contractor looking for cargo or for trucks to move your load, but where to start? With Abu Dhabi being so large and being home to so many companies it can be confusing to know who to choose, who is best for you and who you feel you can rely on and use time and again. You could spend hours or even days looking for the right company or you could register with Load-Me.com and cut out all the hassle and time wasting and find shipping companies in Abu Dhabi very fast.

By using our modern and user friendly platform you can find the right transport company in Abu Dhabi or load that's suitable for you and compare many others on the platform with ease. By being able to see the choice of all these companies at once you will save time and energy and be able to focus on other more important things in your business day. Finding a company for shipping or to get cargo has never been easier and you'll love the way we can find things for you so easily.

With so many people shipping in and out of Abu Dhabi you'll easily be able to find the right company for you. You can register and search for free before you commit and see how good our platform really is and why so many people choose us to find the right company and the right people to use. If you like consistency then you can always come back and make sure to choose the same transport company in Abu Dhabi and know that you'll find them easily with our innovate and simple to use platform.
Abu Dhabi is a great place for business so make it even better when you use Load-Me.com!
Register right Now and have your offer listed within minutes