Dammam Freight Exchange
Dammam - an Important Location for Freight Trading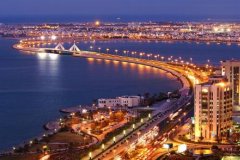 Dammam is the largest city in the Eastern Province along with being the fifth largest in all of Saudi Arabia as well. It's also one of the biggest metropolitan areas and has one of the largest amounts of traffic for import and export businesses especially through the King Abdul Aziz Sea Port.
So as you can see, Dammam is a very important place when it comes to the import and export business and for freight trading. This means that there's a lot of companies, agents and freelance contractors looking for work and to provide work in the shipping industry. Many people are in the area of Dammam for business and business alone so you will not find it hard to trade with someone here.
---
Find shipping companies in Dammam or find cargo to transport to or from Dammam in only a few minutes using Instant Search: Get a match right now!
---
Matching information from hundreds of carriers and shipping companies in Dammam is much easier now.
Finding the right shipping company in Dammam or finding a load you can transport can be time consuming and mean that you have to put other areas of your business on hold whilst you spend lots of time arranging and contacting companies. This is where LoadMe can help you, all you have to do is register and then you'll have access to a great platform where you can find a shipping company with trucks to move your load or companies who want their load moving so your trucks won't be traveling empty.

Using LoadMe is simple and more importantly it's quick and helps you to compare companies is Dammam at the touch of a button. You can look at those you're interested in, compare rates, trucks, drivers and more and then make your decision. Should you be happy with the company you have chosen you can rest assured that the next time you can look them up again via Load-Me.com and use their services once more. This way you will have peace of mind and continuity.

With Dammam being such a busy area there is a lot of competition so by using our platform you can cut out having to hire and pay an agent to look for a company for you. On the other hand, if you are a freight agent and looking to connect companies to loads then you can do your work even faster through our platform and impress the people you are working for with ease and professionalism.
Register right Now and have your offer listed within minutes