Need a Truck? Find it on Load-Me's Transporters Market.
---
Unlimited, Free ads for Load Owners
Post an ad right now and the shipping companies will find you. Then you can choose the most reputable company that comes with the best offer for the job and you can save a bunch of time. As a load owner you can post at any time an ad requesting transportation services. All you need to do is to register on Load-Me Freight Exchange Marketplace. Try it out right now! It's free and it takes less than a minute to post an ad.


If you are looking for a shipping company in Middle East, you are at the right place.
Got some cargo to ship and you need a truck?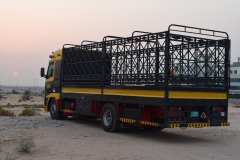 We know that dealing with truck owners or even logistic companies can be a hassle when you occasionally need to move some cargo. There are lots of telephone calls, looking up companies or truckers in the classifieds, it takes a lot of time and effort to find someone that will take your load to the desired destination.
Finding a truck for your load does not mean that your problems are over. Most of the times there is no guaranty for the condition your cargo will arrive to the destination, the shipping conditions and if the cargo will arrive on time. It's mostly a gamble when you hire someone for the first time and you don't have any credentials or recommendations about him. It could work out well or it could be a total disaster leading to material loss. Even if you find a good, reliable shipping company or trucker that you are satisfied with, there is no guarantee that they will be available next time you need their shipping services.
If you need a truck for your load then Load-Me.com is without a doubt one of the easiest and more reliable ways for you to find a company to move your load. Unlike trying to source a truck and driver yourself there will be no fuss or hassle and you can be assured that we will be able to present you with lots of different shipping companies suitable for you. By being able to use an online service it means you're not having to contact several different shipping companies, getting different quotes, having to compare them and work out which is best. By using our platform you can see all this information instantly!

Load-Me.com are experts in our field and we're happy to provide an excellent platform for you to find the right shipping company. All you have to is search for the shipping company you need and then you can arrange your shipping with them. Alternatively you can sign up and let the shipping companies look for you. This gives you time to focus on your business and other things in your life. Once the shipping company you have chosen has collected your load you can be confident that it will get to it's destination on time this gives you time and peace of mind.

We serve several countries in the area such as Bahrain, Jordan, Oman, Qatar, Saudi Arabia and more. We will be able to provide you with many different shipping companies who also cover these areas meaning your cargo can get moving as soon as you need it to. The great thing about Load-Me.com is that you will know which truck and driver you are using and when it comes to needing to find a truck again you can go with the same shipping company. This gives you consistency which is important in any business transaction. Our online exchange area is easy to use and we have support on hand should you have any questions for us or need to make any changes to your request.
We are confident that you will keep coming back to Load-Me.com for our excellent service and attention to detail, we won't let you down.