Container Trucks rental
Find Container Trucks available in the Middle East.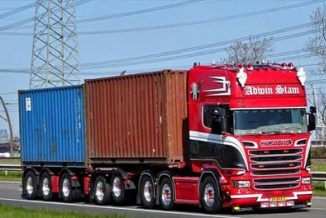 Container trucks are commonly used freight transport vehicles in the form of a standardized and reusable steel container loaded on a truck. These boxes will travel on ships and then can be hauled by a truck, trailer or other transport without having to unload or reload the cargo it contains. Container lengths can vary from eight feet to nearly sixty feet but most commonly used are 40 feet and 20 feet length. Their heights can range from eight feet to a little over nine feet. There are millions of containers available across the world, suited to all types of cargo. These boxes can be fitted to a flatbed truck or trailer or to an lighter structure called skeleton trailer. The shipping container, always has to be secured by twist lock with the help of brackets and they may have barn doors or roll-up doors for easy access. The volume capacities of containers can range from anywhere between 33 cubic meters to 76 cubic meters or even more for the open top containers.
---
Find container trucks in all sizes and for all purposes available for hire in the Middle East. Use our instant search to see if there are available transport options for you right now: Find a truck right now!
---
Matching your loads with trucks is a lot easier with Load-Me.com load Board
Trucks loaded with shipping containers can carry a variety of high value loads ranging from electronics to furniture to toys and household goods and a lot of other cargo. They may carry large boxes, barrels, sacks and other types of cargo as well. Containers are very flexible since they can be easily loaded from one mode of transport to another, and can be carried on a truck in a single journey too.

If you are looking for shipping container trucks to carry cargo in the Middle East, a freight exchange platform like Load-Me will give you access to the best vehicles for transport. Load-Me offers a freight exchange or load matching service for freight forwarders, freight haulers, logistics providers and other people looking to transport goods. The platform carries ads for a variety of trucks and containers across the Middle East, in countries like Saudi Arabia, Kuwait, Oman, Qatar, Yemen, Syria and others. Truck owners and load owners post their ads on the portal for members to browse. You can search among hundreds of available container-hauling trucks and trailers to find the perfect solution for your cargo shipping needs.

Load-Me requires registration for every shipping agent or load owner that wishes to post an ad, so you can rest assured that the quality of ads posted are trusted and the best. Become a member today, find the cheapest and most reliable trucks and containers for your purpose, and gain peace of mind with the knowledge that you will be able to meet your shipping needs all in one place.
Search our ads for the right sized container trucks to suit your needs.
Register on Load-Me.com and post your transportation needs, let the right logistics partner in the Middle East find you fast and easily.