Jebel Ali Freight Exchange
A Small But Important Town for the Freight Exchange Market.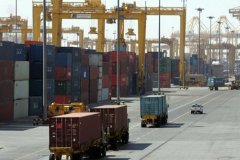 Jebel Ali was a small insignificant village 15 years ago and now it is the most important logistics hub for the Middle East! Jebel Ali Port is located just south of Dubai in the UAE and is the world's largest man-made harbor and has a key position being connected with a logistic corridor to the Logistic City in the new DWC Airport, and being inside of a very special area called the Jebel Ali Free Zone or Jafza. Jafza is home for 7,000 companies from 120 countries, this industrial area that surrounds the port is a tax-free facility for those who locate there, a very lucrative offer for many and thus making it's trade busy. If you are looking for shipping companies in Jebel Ali, you're at the right place.
---
Find shipping companies in Jebel Ali or find cargo to transport to or from Jebel Ali in only a few minutes using Instant Search:Get a match right now!
---
Matching information from carriers and shipping companies in Jebel Ali is much easier now.
Jebel Ali is a brilliant, buzzing hive of industry and with it being a port town it sees many an import and export come into and leave the city. Many shipping and freight companies are located there and many companies in the UAE look for cargo and trucks there so the wheels of the freight industry never stop turning in Jebel Ali. This means there's a lot of chance, choice and opportunity for businesses in this area.

LoadMe provides a platform where you can find companies in Jebel Ali who either want their load moving or would like to move your load, either way you'll be able to find a company. By signing up on our site you will have access to a modern and easy to use platform, giving you access to many companies seeking work in and around Jebel Ali. Even independent truck owners can register and offers their services to those who may be interested. If you have a flatbed truck, a pickup or a fleet of trucks ready for shipping in and out Jebel Ali, LoadMe is the place where you can constantly find business.

By using the platform via LoadMe you will open up the world of the freight industry at your fingertips and this in turn will give you a wonderful opportunity to be able to find the right shipping company in Jebel Ali or the right load by searching through, comparing and selecting the company that is right for you. Freight agents are also welcome to use the platform as this can be a very valuable tool for an agent to use to impress their clients and come back to the platform time and again depending on the needs of the customer you are working for.
Register right Now and have your offer listed within minutes