Commercial truck rental
When you need to move big cargo, you'll need assistance with renting the proper sized and properly equipped truck that will take your load to the destination safely. Instead of renting the truck by itself, you can hire a shipping company or independent truck driver to take your cargo to the destination.
Truck rental and transportation arrangements for your business
Find the right truck for your cargo. Stop wasting your time searching in the classifieds and making random calls. Load-Me Freight Exchange is matching loads and transporters all over the Middle East.
Load-Me's Live Results - Trucks for rent
Listed below are the latest posts offering trucks for rent. Click on "more details" to see more about the truck availability and about the transporter. Don't forget to log into your account in order to fully take advantage of the Freight Exchange platform.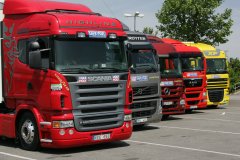 It's quite important when you're getting ready for truck rental in UAE or arrange for your cargo's transportation in any way, to have at hand all specifications needed for the transporter. The size and type of your cargo will determine what kind of truck you will need. It's even better, when you already know the type of truck you need and you can easily use a search tool like Load-Me.com to find available transporters to your desired destination.
Learn more about the different truck types and see which one would fit your cargo before thinking of truck rental in UAE, KSA, Oman, Jordan or Kuwait. Don't hesitate to ask for advice. Shipping companies have been doing this for years and there is a big chance they can offer you the right thing just by learning about your cargo type and volume. You can easily post an add on Load-Me.com and just wait for the right offer to come to your doorstep. Find shipping companies in UAE or other Middle Eastern countries by searching them on the transporter's marketplace UAE.

When renting a truck you need to make sure you get the right company. While transportation companies offer basically to take your load from one place to another, there are possibilities for you to approach a company that has trucks to rent with or without a driver. If you only have some furniture to move, a pickup might be just enough and if you don't want to spend the extra money, you can drive it yourself. On the other hand, if you are a company owner that ships a truck load of merchandise periodically, you might want to hire a truck with a driver.
---
Find out more about the trucks that can take your cargo to the destination on our Transport Marketplace.