Need Load? Find it on Load-Me Transporters Marketplace.
Got the trucks ready to go, but you need cargo?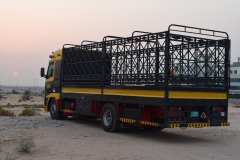 Load-Me.com is the solution for the road transport industry in the middle east. it offers real time access to thousands of cargo owners searching trucks for rent and transportation for their cargo. at the same time Load-Me is a platform where road transport companies can advertise their truck fleet and services.
If you are either a shipping company or an independent contractor owning one or several trucks, you know very well the importance of keeping the trucks on the road. And not just on the road, but transporting cargo.
Most road transport companies that have a considerable truck fleet rely on contracts with lots of companies that periodically need land transport for their cargo. The transport needed is 99% of the time one way, meaning that they either need to find another load for the road back or go empty. In these cases you can wait by the phone for a customer that luckily will need transportation that coincides with your route or perhaps start calling your contacts and see if anybody needs road transport on a specific route.
Either way, you are losing time and money. Running your truck without a cargo is causing always a financial loss, not to add that it's not environment friendly either.
Take advantage of Load-Me's Freight Exchange platform and get a load for your truck fast.
Post an add right now and wait for the shipping companies to find you. Then you can chose the most reputable ones, the best value for the job and save a bunch of time.
Search for a Load or Advertise your services
As a shipping company or even as a self employed contractor you know that having a steady flow of work is important. There's no point in driving back and forth with an empty truck, it is a waste of time and resources. But getting cargo isn't always easy, people may let you down or you may not have enough choice in your area in the Middle East. Well Load-Me.com can give you the solution to your problems. As experts in freight exchange we can find you cargo and get your truck or trucks loaded and on the road quickly. No more waiting, no more worrying where the next job is going to come from, there is plenty on our Load Board waiting for you.

Load-Me.com is available in many areas including UAE, Bahrain, Yemen, Jordan, Iraq and more so you will have lots of choice and be able to find loads in an area that suits you. Once you have dropped off you can come back to Load-Me's Load Board again. You can again choose some more cargo from our platform to get you on to your next destination without wasting any time or having a truck off the road or empty. By making sure your truck is always moving around cargo you are also doing your part to help the environment as making unnecessary trips is always best avoided.

The Load-Me.com platform is great to use and you will always find loads and cargo there waiting for you, no more hanging around for people to get back to you or being stuck on hold on the phone waiting to see if you have got a job. You can sign in to the platform, look for the load you want in the area you want and choose it and get on your way. Load-Me.com does the hard work so you don't have to!
Register now and start advertizing your services. Post your truck's availability and destination in order to get a job as fast as posssible.