Car Transporter Trucks
Find available car transporters in the Middle East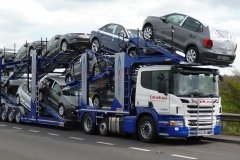 Are you looking for a car transporter service, trailer or truck to move vehicles? Auto manufacturers, movers and packers, relocating companies moving their fleet of cars and others requiring the transportation of their cars from one destination to another use specially designed flat trucks and trailers to do so. Factory-new vans and cars are often moved to dealers with the help of car transporting flat wagons and trailers. Since cars are relatively lighter freight, many auto transporters have double decks. Some trailers and semi-trailers in UAE, called car carrier trailers, may also be hitched to a tractor unit to transport passenger cars efficiently, via truck.
Modern car-carrying trailers may be enclosed or open. Those that are used commercially usually have a built-in ramp to help off-loading and loading cars with ease. They may also be equipped with power hydraulics mechanisms to raise or lower ramps as and when required for easier access.
---
Find car transporter trucks for hire in the Middle East. Use our instant search to see what available transport options for you right now: Find a truck right now!
---
Matching your loads with trucks is a lot easier with Load-Me.com load Board
If you are looking for an affordable, efficient and reliable transporter service, Load-Me.com can connect you with hundreds of services in the Middle East. Load-Me is a freight exchange service that helps to match trucks with loads. Logistics agents, shipping companies, freight forwarders and others list hundreds of ads seeking and offering services and solutions, among which you may find the one for you. Browse through the ads to find the carrier that is most affordable for you. Look for the service that promises to keep constantly in touch with you during the transportation, or find the services offering delivery timeframes that work for you. You can find the auto hauling trailers or trucks you are looking for in most Middle East countries. Load-Me offers its Load Board across countries like Yemen, Bahrain, Saudi Arabia, UAE, Iraq, Syria, Jordan and others.

Find the perfect auto hauling service for you with LoadMe. Whether you are looking for responsible services that help to reduce carbon emissions by filling empty trucks, auto transporters that have the experience you need for peace of mind in the service, and other particulars, Load-Me will have something for you.

Visit Load-Me.com and begin searching immediately for the needed truck. All Load-Me members are required to register, which helps to set a certain standard of members on the board. Once you have registered, log in and you can post your ads offering transportation services or looking for one: Register on Load-Me.com.