Refrigerated Truck rental
Find reefers available right now in the Middle East.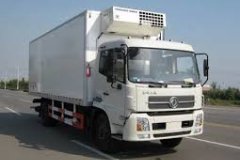 A reefer or a refrigerated truck is an articulated truck unit fitted with a refrigerated semi-trailer container used to transport cargo that is temperature sensitive. These chiller trucks are equipped with a cooling apparatus such as dry ice or liquid carbon dioxide, or they can be ice-cooled. They may also rely on a diesel engine and a mechanical refrigeration system for cooling. While the refrigeration unit is integrated into the container, an external power source is typically required, such as diesel powered engines during transportation and reefer points at quays, container ships or land-based sites.

Reefer rental can be a hassle if using the old fashioned ways of contacting transportation companies by phone or looking it up in the paper ads. Finding a chiller truck rental in Dubai for example, just became a lot easier. Using Load-Me.com's Load Board you can find reefers for rent all over the Middle East, at a push of a button.
Find a Truck Right Now
Use our instant search to see the available transport options right now.
Find refrigerated trucks with different cooling possibilities, for your perishable merchandise.
Matching your loads with trucks is a lot easier with Load-Me.com load Board
Refrigerated trucks are usually used to transport perishable goods such as dairy products, fish, meat, sea-food, vegetables and fruits, and other food items that need temperature controlled environments during the long journey. Their impact on society is significant, allowing consumers to enjoy fresh produce from around the world and freight companies to bring fresh perishable goods to their customers without affecting quality.

At Load-Me.com, which is a Load Board that matches trucks and loads across the Middle East, you will be able to find 3 ton, 5 ton or 10 ton Reefer trucks to suit your shipping needs. The trucks available at the portal can transport goods at -18 degrees C, -24 degrees C and +4 degrees C, so that the perishable items that you are transporting will stay protected no matter the distance they travel or the outdoor environment they are traveling through.

The Load-Me service links shipping companies, cargo owners, truck owners, freight agents and others who want to transport their cargo from one place to another. They offer their services across the Middle East, and you can find reefer truck solutions at the portal for transport in UAE, Iraq, Bahrain, Jordan, Oman, Kuwait, Qatar, Syria, Saudi Arabia and Yemen.

Finding a shipping partner at Load-Me.com for your needs is easy.
You can register on Load-Me.com. When you have signed up, you can begin to browse the ads placed by truck owners and choose the one that suits you best.
Go on to connect with the owner and communicate in real time and find a solution for your refrigerated shipping needs. Search our ads to find out what the service has to offer.