Musaffah Freight Exchange
Musaffah - A Special Economic Zone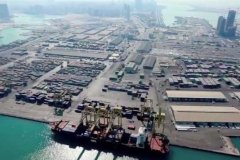 Musaffah is known as a satellite town to Abu Dhabi and has many relations with it through business and commerce. It is also a port town and as such has many a company performing import and export businesses in the area.

The freight industry is very important in Musaffah and as such, anyone looking for freight to be moved in this area will not fall short of companies to choose from, in fact if you're looking for cargo or trucks you may be overwhelmed by the choice and not entirely sure where to start. There are plenty of shipping companies in Musaffah to chose from, an you can easily get an offer on LoadMe.
---
Find shipping companies in Musaffah or find cargo to transport to or from Musaffah in only a few minutes using Instant Search:Get a match right now!
---
Matching information from carriers and shipping companies in Musaffah is much easier now.
Back in the 1970's Musaffah was a tiny industrial area, run down, half completed buildings and not very much going on at all. However people saw the potential in the area and development started soon after. After another 20 years or so the area was starting to thrive, especially when a bridge was built to connect it to the island of Abu Dhabi. The local government has also supported businesses who set up there and today it's growing really well and many companies are well established there.

By registering with Load-Me.com you'll know exactly where to start, just sign up and you'll be given access to a helpful platform. This platform will show you companies requiring services all over the Middle East including in places just like Mussafah industrial area . If you want load moving then all you have to do is look for a company offering their services to move your load in the area you are and who will take it to the loads destination.

If you're a shipping company or even someone with your own truck wanting to offer your services for hire then again you can register at LoadMe and find the work come flooding to you. You can also contact companies looking to have their load moved and let them hire you. The process is simple, easy to use and hassle free.

You'll save time and money by using our platform and know that you'll be getting access to some quality services along with plenty of choice on the platform itself. LoadMe strives to aim for the highest quality service to give you a chance to get your load moved or move load for others.
Register right Now and have your offer listed within minutes