Lowbed Truck Rental
Find available lowbed trucks in the Middle East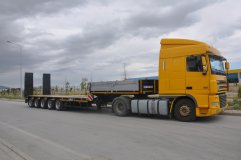 Lowbed transport refers to trailers that are used for carrying and moving heavy duty earth-moving equipment and other special transports. They usually have a low platform with rows of eight to sixteen wheels, and are designed to carry loads over twelve feet tall and weighing twenty to thirty tons or more. They may come with one to five axles, different variants in the lowbed, a removable gooseneck and other variations.
Lowbed transport is typically used when heavy duty mining equipment, power packs, agricultural tractors, slashers, forklifts and other machines have to be moved from one site to another. Many different sizes and specifications of these articulated trailers are available and they are particularly suited for extremely heavy or very wide loads that cannot be carried on other types of trailers or trucks.
Find a Truck Right Now!
Lowbed rent. Use our instant search to see the available trucks right now.
Check out our Load Board and find the lowbed you need for your load.
If you are looking for a service offering efficient and reliable lowbed trailer or transport in the Middle East, Load-Me.com will connect you with the right services. Load-Me is a freight exchange platform matching loads with trucks across the Middle East, including in Saudi Arabia, Yemen, Syria, Jordan, and Iraq, UAE, Bahrain and others.

The perfect lowbed trailer for the job will be one that has the measurements and load capacity to be able to carry the sizes and weights of the equipment to be transported. These trailers are usually equipped with a drop deck for easy loading. They are ideal for companies seeking to transport abnormal loads efficiently and without hassle. You can browse through the hundreds of ads posted by services offering lowbed trailers, to find the perfect one for you. Find the service that offers reliable services you need anywhere in the Middle East. Whether you seek quality escort vehicles, monitoring and tracking and other benefits, browse through what the ads have to offer and pick the one that suite you best. Make connections with your preferred service through our platform and take the negotiations further with real time communication.

Our Load Board requires registration for all members, which ensures that the ads posted are only by reliable services, companies and individuals.
Register on Load-Me.com today to browse the latest ads by services offering lowbed trailers and transport. If you have already registered, you can begin searching through the ads posted and find the perfect lowbed transportation solutions for your needs, anywhere in the Middle East.