Load-Me.com – Middle East's Transporters Market
The only Load Board exclusively for the Middle East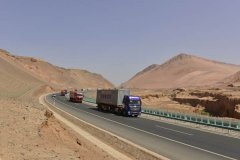 Load-Me.com is a Freight Exchange Platform for the Middle Eastern Transport Market, exclusively covering shipping to and from the following countries: UAE, Bahrain, Iraq, Jordan, Kuwait, Oman, Qatar, Saudi Arabia, Syria and Yemen.
Load-Me is presenting the first Load Board exclusively for the Middle East. We are bringing together all the shipping companies in the area with all industries and businesses that need road transportation for their cargo.
The Transporters market is a very important branch of the middle eastern economy and it was about time to have a well organized online system to help both truckers and cargo owners work faster and find reliable sources at one place.
LoadMe's transporters marketplace is aiming to increase the efficiency of all parties involved in logistics. Weather you need local transport within the UAE or international transport to Oman, Qatar, Saudi Arabia or any other countries in the area, you can find it on our load board. You can also find out the updated Fuel Prices in UAE and the other surrounding Middle Eastern countries.
Find out more about the busiest industrial areas and cities from the middle east. If you work in the logistics industry, chances are that you already cover these areas and you will find our search tool very useful.
Take advantage of Load-Me's Freight Exchange platform. Either you are a shipping company or a business owner in need of transport for your cargo, Load-Me.com will save you time and money.

Try it out right now, click the search button and enter the Logistics world of the entire Middle East.