Semi-Trailer Truck rental
Find semi-trailer trucks available in the Middle East.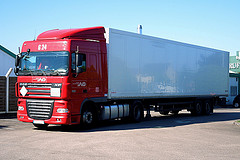 On Load-Me.com you can find diverse truck and trailer services, including Semi-Trailer trucks. A semi-trailer truck is simply the sturdy combination of a tractor unit joined by one or more semi-trailers to carry freight. Options for cargo when it comes to semi-trailer trucks are nearly unlimited, as it's one of the most popular and reliable options. If you have any kind of cargo that can be loaded onto a semi-trailer, check out Load-Me.com today. While you're there, don't forget to browse our other cargo options to see if any of them fit your need or demand.

If you have a semi trailer for rent, post an ad on Load-Me and make sure the load owners looking for such a truck can find you really fast. Load-Me.com is the largest freight marketplace in the Middle East that unites all transportation companies, individual drivers and shippers. Having hundreds of available trucks at all times makes our Load Board the most efficient semi trailer rental place in the area.


Semi trailer trucks available for rent
Find semi-trailers in all sizes and for all purposes available in the Middle East.
Use instant search to see if there are available transport options for you right now.
Matching your loads with trucks is a lot easier with Load-Me.com load Board
We work hard every day to help out our customers and potential customers get a good match for their needs. We are proud to offer freight services aimed specifically at the Middle East Market. These countries include: UAE, Bahrain, Iraq, Jordan, Kuwait, Oman, Qatar, Saudi Arabia, Syria and Yemen.

Shipping companies, independent truck owners, freight forwarders, and people who need to move their cargo can visit and search on our site. You can then register for an account and list your offer for potential customers. If you're interested in posting your services as a transporter or just looking for a job, don't hesitate to register. Registering holds you under no obligation, but it's simply there to answer your questions and give information about our services. If interested, you can register here at www.Load-Me.com.

If you find yourself pondering our services but aren't sure what to do next , we urge you to search our ads that have been posted on our website for your convenience at Load-Me.com. We work hard to make sure you're satisfied with the services we have to offer and that you will quickly find the semi-trailer or any other trucks you are looking for. We're more than happy to chat with you to answer any questions, so don't hesitate to give us a call.