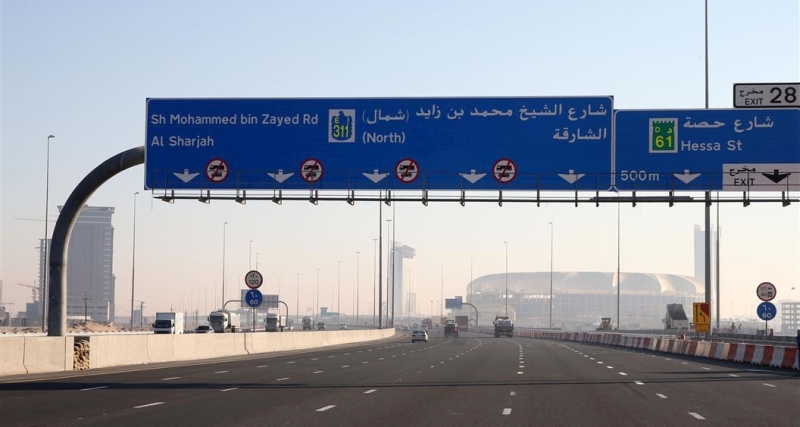 RTA (Roads and Transport Authority) announced that the maximum speed limit on Shaikh Mohammad Bin Zayed Road and Emirates Road in Dubai, will be reduced from 120kmph to 110kmph. This will come in effect from October 15.
Following an increased number of accidents on these two roads, the RTA and Dubai Police decided to drop the speed limit. This is supposed to ensure a better road safety (the majority of the accidents being caused by excessive speed) and will also help curb the traffic violations. The decision was also influenced by the fact that both roads have huge volumes of heavy vehicle traffic in both directions.
Shaikh Mohammad Bin Zayed Road is built to handle 12,000 vehicles per hour per day, but currently the numbers are well exceeded: usually 7,009 vehicles travel in the direction of Abu Dhabi and 7,821 travel in the direction of Sharjah. On the Emirates Road, 6,442 vehicles (6 per cent of them are trucks) operate in the direction of Abu Dhabi, whereas 3,416 (14 per cent of them are trucks) in the direction Sharjah.
According to Dubai Police, both the highways have accounted for 39 lives each from the beginning of last year, forcing the authorities to revise the speed limits because at least 60% of the accidents are associated with speeding.
Shaikh Mohammad Bin Zayed Road
- First half of the year: 99 accidents resulting in 6 deaths and 78 injuries.
- Last year: 196 accidents resulting in 33 deaths and 249 injuries.
Emirates Road
- First half of the year: 40 accidents resulting in 10 deaths and 75 injuries
- Last year: 86 accidents involving 29 deaths and 147 injuries.
Motorists should also be aware that as a result of the drop in speed limit the cameras on both the highways will catch the speeding vehicles at 131kmph instead of the current speed of 141kmph
"Lowering the speed limits on the Shaikh Mohammad Bin Zayed and Emirates roads is a result of elaborate traffic safety studies and analyses of traffic accident data along with their causes over the past years. It resulted in addressing several traffic safety requirements such as pedestrian bridges, safety rails, and truck lay-by areas,"

- Maitha Mohammad Bin Adai, CEO of RTA's Traffic and Roads Agency
According to the RTA, controlling the speed limits is an effective measure to reduce traffic accidents. When deciding on speed limit modifications, there are lots of criteria to take in consideration: the design speed of the road, and the actual speed observed by the majority of drivers. It also rests on the extent of urbanisation on both sides of the road, pedestrian traffic, availability of schools, mosques and other vital facilities. And one of the major factors is the level of traffic and the volume of accidents that took place on the road.