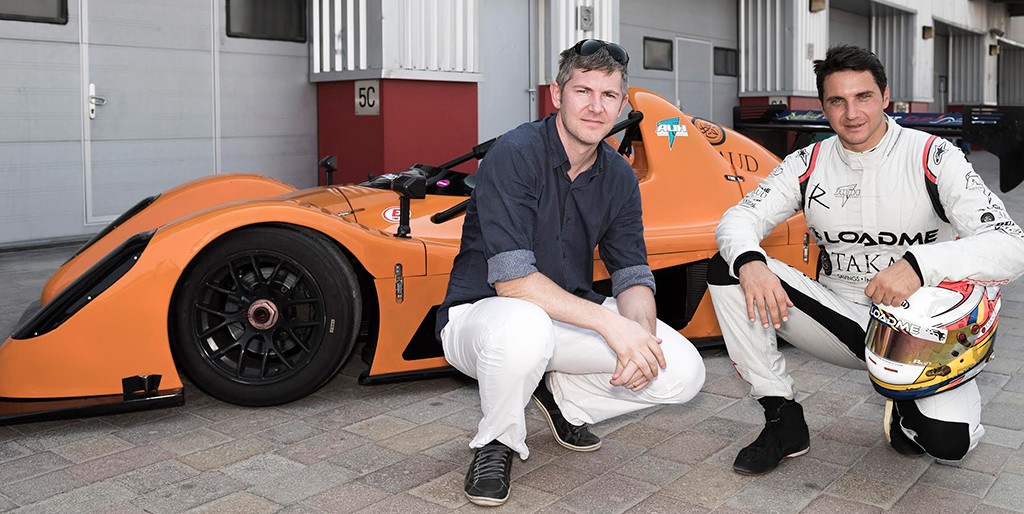 The Radical Middle East Cup (RMEC) is a part of the UAE National Racing Series. RMEC is one of the most successful racing series currently running in the entire GCC region and it brings together part-time motorsports enthusiasts in a cost efficient racing cup. Load-Me is a proud sponsor of Catalin Voicu's Team.
The average line-up on the grid contains of 12-16 cars. The drivers are from all across the world but mainly GCC based expats or nationals. RMEC had over time drivers traveling from UK, Russia, Italy, Spain, Australia or South Africa which under the warm winters here, were able to enjoy more motorsport action during their off-season time. The age of the drivers as well as their skill level is quite spread across. You'll meet here pro drivers but also 1st time racers, from the age of 14 to over 60. The most beautiful part of this racing series is the fact the there is always a friendly atmosphere in the paddocks while on track, you can always get engaged into a fearless battle while fighting for a position at all different levels.

Visitors are always welcome into the paddocks during a race weekend, therefore they are able to see the cars from up close, talk to the drivers or organizers and enjoy a more opened approach to spectators and motorsport enthusiasts.
RMEC started in October and will travel to 3 different race circuits until the end of the season in April 2017. These are: YAS Marina Circuit and Dubai Autodrome in UAE, as well as Losail International Circuit in Qatar. See the RMEC 2016-2017 calendar for your reference: Download RMEC Calendar
RMEC is run by AUH Motorsports, a team of highly skilled, enthusiastic and passionate professionals like Carl Rolaston and Craig Thompson without which, cost efficient racing wouldn't be possible. AUH Motorsports is also the official promoter of the FIA F4 UAE racing series.

In relation to the partnership between Load-Me and Catalin Voicu's team, Craig Thompson (Technical Manager of AUH Motorsports) said "I'm very pleased to see such initiative, into supporting fairly new race drivers by local based firms, especially when they are sharing the same goals in relation to improving and continuously developing their performance, while keeping our UAE roads safer by promoting the racing only in a controlled and safe environment (i.e. race tracks)."
---
Load-Me is a proud sponsor of Catalin Voicu and his team.
Catalin Voicu introduces himself and speaks about his expectations for this season, his racing career so far, YAS Marina racetrack and gives his opinion on the Radical Middle East Cup in general.
---
Radical Middle East Cup - racing for gentlemen
RMEC is a place where fair-play is at its top, a true gentlemen's race. See pilot Catalin Voicu (orange car): during the first corner after starting the race, the orange car has touched the back of the blue car which went in a spin, but soon after the pilot invites the blue car to overtake him, as an act of fair-play.
---
Radical SR3 Specs:
Engine
RPE-Suzuki Generation 3 1500cc 4-cylinder DOHC engine, dry sump lubrication with remote oil reservoir. Oil cooler and electrical pump to circulate water to prevent heat soak. Twin battery 24v starting/charging system.
Transmission
Six-speed sequential transverse gearbox, pneumatic paddle-activated gearshift system with auto-blipper. Gear drive system incorporating Quaife torque-biasing limited-slip differential. Interchangeable gear ratios and integral reverse gear system. RPE transmission oil pump & radiator. Lightweight steel flywheel with multi-plate clutch.
Chassis
Two-seater, powder-coated carbon steel spaceframe chassis, with integral safety cell complying with FIA Production Sports Car Safety Structure Test. Aluminium honeycomb front crash structures complying with FIA Production Sports Car Crash Test.
Suspension
Fully adjustable Nik-link suspension system front & rear unequal length top & bottom wishbones, fabricated uprights, forged centre lock hubs and interchangeable anti-roll links. Single-adjustable Intrax Racing Suspension coil-over dampers with billet fittings
Brakes
Radical four-pot calipers front & rear on 280mm x 25mm fully-floating 48-vane disc brakes.
Wheels
Radical centre lock, single-piece cast aluminium wheels 8"x15" dia. front and 101/2"x16" dia. rears.
Tyres
Dunlop bespoke slick tyres, front 200/580/R15, rear 265/605/R16
Dimensions
L 4077mm W 1799mm H 1093mm
| | |
| --- | --- |
| Type: | RPE-Suzuki Generation 3 1500cc 4-cylinder DOHC engine |
| Power: | 210 HP at 9,500 RPM |
| Torque: | 124 LB-FT at 8,200 RPM |
| Weight from: | 570kg (1,256 LBS) (without fuel and driver) |
| Power to weight ratio: | 368hp/tonne |
| 0-60mph: | 3.1 seconds |
| Top Speed: | 155 mph |
---
Photo Gallery