Elon Musk revealed Tesla's first electric semi-truck on Thursday evening, making a great entrance driving the truck himself. The event in Los Angeles focused on the presentation of the new electric semi-truck, but also revealed a new model Tesla sports car.
The flashy presentation took place in an airport hangar in Los Angeles, Elon Musk driving a Tesla Semi-Truck himself. Elon Musk is on his way to revolutionize transportation with environmentally friendly, electric vehicles. As trucks take up nearly 25% of transport related greenhouse gas emissions only in the USA, the production of an electric truck is a huge improvement on the environment globally.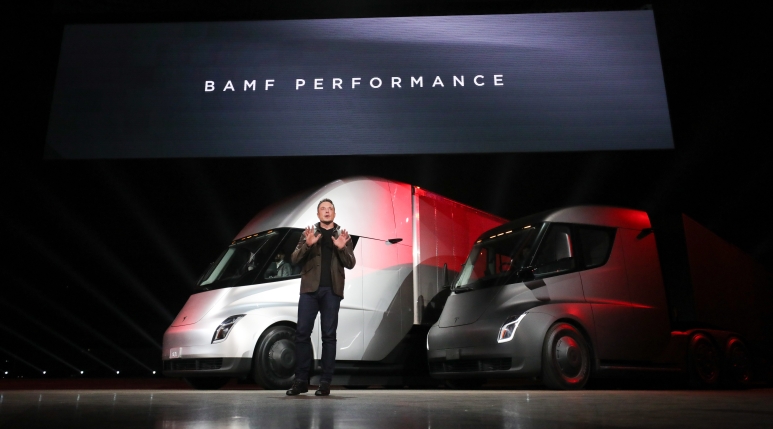 Here are some of the specks Elon Musk revealed about the new Tesla Semi-Truck:
- Drag coefficient of 0.36, (unprecedented for a truck and even beats several modern passenger cars)
- It is equipped with 4 independent electric motors on rear axles – enabling torque for a 0 to 60 mph acceleration with a full load in 20 seconds (and about 5 sec. to reach the same speed without the full load).
- Speed of 65 mph going up a 5% grade (that's about 50% faster than your average truck, which is both good for travel time and to reduce traffic)
- Range: Musk announced two different battery pack configurations for 300 and 500 miles of range on a single charge (that's with a full load)
- Semi-autonomous features: the truck will come standard with 'Enhanced Autopilot Features' and that it will be able to create semi-automated convoys.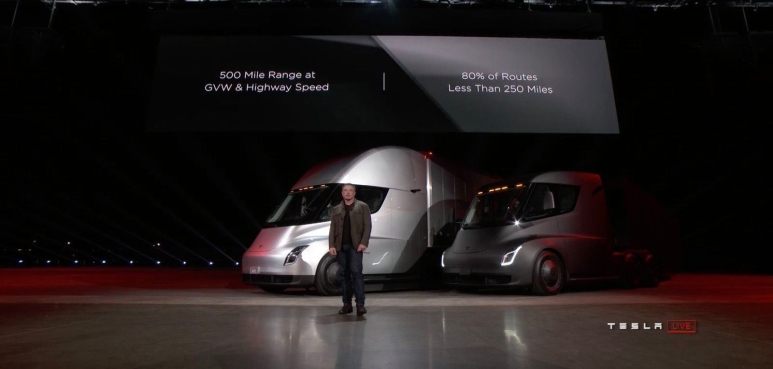 But the big question for all fleet operators is: The costs. After all, no matter how cool the trucks look and how nice are the specs on the paper – freight transport is a business and truck owners need to know the costs.
Unfortunately, Tesla didn't announce the price tag of the truck and instead, the company appears to have included the price into the cost of operation. (see below)

The truck is scheduled for production in May 2019, Elon Musk announced, let's hope we'll have a price range that is up to the expectations. Even without a price tag, Walmart and several other companies, confirmed having ordered Tesla Semi trucks following the unveiling. Walmart announced they ordered 15 vehicles.